This page is the BOWLER Family
John BOWLER was born 14th August 1852 in Cathedral, Manchester, England and married Isabella Spiers McKell born 26th October 1855 in Milngavie Parish of New Kilpatrick, Dunbarton, Scotland.
Children of John Bowler and Isabella McKell
George Bowler born 1877 died 12th November 1956

Ellen Spiers Bowler born 17th May 1879 died 21st September 1968

Jonathan McKell Bowler born 1881 - died 8th December 1965

Hendry Bowler born 1883 died 1885

John Bowler born 1886 died 27 April 1955

Wilson Black McKell Bowler born 1888 died 25th September 1915 during the 1st WW aged 26

Jane Bradburn Bowler born 1889 died 1891

Isabella Paterson Bowler born 1892 married Alexander Paterson. They had a son William Paterson - no further info on William at present. Isabella died on the 14th November 1958

Annie Bowler born 1894 died 1st February 1895

Elizabeth Muir Bowler born 8th July 1896 died 24th September 1987 at Lasswade, nr. Edinburgh.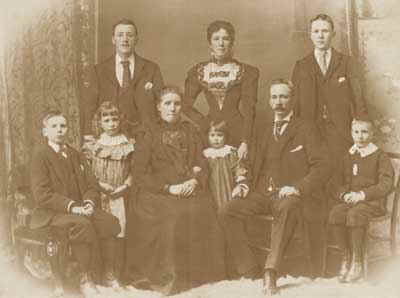 The Bowler Family 1900
Back Row L-R
George Bowler; Ellen Spiers Bowler; Jonathan McKell Bowler;
Seated
John Bowler; Isabella Paterson Bowler; Isabella Spiers McKell; Elizabeth Muir Bowler; John Bowler; Wilson Black Bowler