NOTE ANY ITEM IN BLUE IS A LINK TO A PAGE
From this period parish registers are sometimes available but they are generally incomplete. Relationships must therefore be confirmed from other sources. There are very few death (mortcloth) entries, not surprising" in view of the unsettled state of the country. Dumbreck names now appear for the first time in districts far remote from Morayshire and Aberdeenshire.
A CHARLES "Captain in Colonel Archibald Row his Regiment of Foot Guards" (21st. Foot now Royal Scots Fusiliers) was amongst the officers of the regiment made honorary freemen of Aberdeen In 1894. He married Elizabeth Ranken widow in Edinburgh in 1699, was made an honorary burgess of that city in 1701 "for several good services done by him to the interest of the town" and is described as of the Edinburgh City Guards on his death in 1717. He left considerable estate.
A WILLIAM appears in Aberdeen in 1757. On 25th August, described as 'gardener in Craigtown' he married Mary Anderson of Linlithgow and became the progenitor of the more numerous Linlithgow branch of the family. It is still represented in that town.
Alexander Dumbreck had seven children by Margaret Dunbar, James, Alexander, Archibald, Thomas, Mary, Christian and Jean. JAMES, bapt. at Boharm 12 Sept. 1674 was in Mains of Rothes in 1700. He had four children 'by his wife Elizabeth Leslie: Charles, Robert, James and Christian, some of whom were baptised in the church of Dundurcus.
CHARLES, b. c. 1700 married Isobel Mitchell at Dundurcus 25 Oct. 1726 and is described as 'of Rothes'. He was the miller in Mains of Rothes in 1734 and had died by 1760. He had five sons and one daughter; James, Alexander, Thomas, George, John and Margaret.
Of the first three sons, only Alexander remained in the Rothes area; James and Thomas emigrated to Halifax, Nova Scotia their name changing to DUNBRACK / DUNBERACK (possibly as a result of immigration). JOHN, the youngest, bapt. Rothes 23 May 1736, appears in Edinburgh in 1762, when on 2 Feb. he married Christian Noble, daughter of William Noble mason in Penicuik. The marriage entry describes him as 'stablers servant' but in all the entries relating to the baptism of his children he is called 'vintner'. John's connection with Rothes is established by two entries in the Edinburgh Registers. A witness to the baptism of his son James on 2nd Feb. 1765 was his eldest brother James (it was custom for the sponsors to be of the same christian name as the child, described as 'salmon fisher at Spey'. The Rothes registers show that James lived at Coble-pot of Airndilly, on the Spey opposite Rothes. The second entry is that of the marriage of his sister Margaret to William Stables in 1769, where she is called 'daughter of the late Charles Dumbreck miller in Rothes". It is a likely assumption that John left Rothes on his father's death and took his young sister with him.
John became a very successful vintner and Innkeeper and figured prominently in Edinburgh when the New Town was being built. In 1773 he owned the King's Head at the end of New Bridge (the first North Bridge) and in 1779 also purchased the White Horse Inn at the Cowgate Port. While proprietor of the White Horse John developed the coaching business belonging to it. In March 1781, under the heading "In 4 days to London during the Summer" he advertised that "The Edinburgh and London Fly would on Monday 2nd April set out from the White Horse at 2 o'clock in the morning precisely and continue to do so every lawful day". He also ran the Edinburgh and Aberdeen Fly, stage coach to Kelso and several coaches to Leith. In 1780 John also owned the Whale Inn at Newhaven. In 1790 he took over Dun's Hotel at 59, St. Andrew Square in the New Town and disposed of the White Horse. He was regarded by his contemporaries as a man of advanced ideas who had greatly improved the hotel standards of the time.
John had six sons and three daughters by Christian Noble: William, James (d. in infancy), Charles, John, Thomas, Robert, Fanny, May and Josepha.
WILLIAM, the eldest son, also opened a hotel at 35 St. Andrew Square, Edinburgh in 1790. When John died the next year William took over both houses, which soon became well known as 'Dumbreck's Hotels' and, spread into the intervening buildings. It was the leading hotel of the New Town and is often mentioned in literature of the period e.g. Stevenson's "St. Ives". William retired from active management in 1825, to attain the dignity of 'William Dumbreck Esq. of South Coates', a detached house then standing in the country at the east end of Haymarket, Edinburgh. He sold the hotel buildings in 1825 to the newly formed National Bank of Scotland for £13,000 (and 3,000 guineas compensation to the tenant). William had three sons and three daughters by his first wife Catherine Bowie; John, William, Robert, Catherine, Christian and Forbes and by his second wife Sarah Keltie three sons and two daughters; Archibald, William, George (d. as child) Alexander, Helen and Elizabeth. Go to Williams' page for an image of what the Hotels looked like back in the 1800's.
JOHN (1799-1854) the eldest son was a writer to the Signet in Edinburgh and had an only daughter Kate by his wife Euphemia Kinnear. The second son WILLIAM (1800-1875) qualified MD at Edinburgh in 1828. He was later examiner to the College of Surgeons. He m. 1828 Anne Bassanville and had one son William and one daughter Margaret Alston. This last WILLIAM b. Edinburgh 1835 d. Lucknow 1858, also qualified MD Edinburgh and was surgeon to 1st. Royals at Sebastopol in 1854. The third son ROBERT (1802- ?) was a hatter at 88, Candlemaker Row Edinburgh, m. Christian Greig and had an only daughter Elizabeth b. 1824. The fourth and fifth sons ARCHIBALD WILLIAM (1817-1848) and ALEXANDER (1824-1881) emigrated to New Zealand and Australia respectively and possibly have male descendants.
CHARLES, second son of John the vintner, b. Edinburgh 11 June 1766, was admitted a burgess of the city in 1789, in right of his father John, as "cutler at the upper end of Chalmers Street" . On his marriage to Mary Cromar in 1808 he is, however, called "Mariner of Newhaven". He had six daughters, Anne, Christina, Sally, Elizabeth, Catherine and Baillie and finally a son John, b. Edinburgh 30 Oct. 1823. As the son of a burgess JOHN was admitted to Heriot's Hospital in 1831, entered in the school records as son of Charles Dumbreck cutler'. He left the hospital in 1858 with the report "Conduct, fair, talent and attainments, tolerable". His father having died in 1837 he was apprenticed to a silversmith but, that occupation proving disagreeable and the weight of his feminine entourage too heavy, he 'ran away to sea'. In 1854 he joined the Customs service and was finally stationed and retired in Liverpool, where he died in 1905. JOHN married in 1854 Eliza Jane Craig of Dumfries, they had four sons, Charles (d. in infancy), James Craig, John and William and five daughters, Mary, Elizabeth, Anne, Emily Maud and Christina.
JAMES CRAIG DUMBRECK (1858-1935) went to the United States and there became a political figure. He had two daughters, Mary and Christina (m. Ledson).
JOHN, the second son, (1860-1941), was a post office official and had an only son JAMES CRAIG, b. 1894, for many years head of the Eastern Telegraph Company in Scotland. His only son JOHN, b. 1923, is a graduate of Glasgow University, now in the Russian Department of Manchester University (John retired 1983).
The third son WILLIAM, b. Liverpool 11 Dec. 1866, d, 7 Nov. 1957, also joined the Customs service. He married 28 July 1892 Anne Brannan, daughter of Thomas Brannan, late of Bray, County Wicklow, and had three sons William Vincent, Stanley and James Craig, and three daughters Anne Dorothy, Isobel and Hilda.
WILLIAM VINCENT DUMBRECK, b. Liverpool 1 July 1893, served with the Liverpool Scottish (Camerons) 1911-1917), Indian Army 1917-1923, Royal Air Force 1938-1946. He married 15 July 1924 Nora Alice Luck, eldest daughter of Alfred Gray Luck of Frant, Sussex, and had twin daughter and son, Jean Christina, and Ian Robert. IAN ROBERT b. Hadlow, Kent, 28 Jan. 1927 is a serving officer of the Royal Navy. He married 20 Nov. 1954 Fay Langrish, King of Tarkastadt, Cape Province and has a daughter, Deborah Christian, b. Tunbridge Wells, Kent, 27 Aug. 1955. Also RODERICK WILLIAM DUMBRECK b. Singapore, 21 Aug. 1957, Alice Polly Dumbreck b. East Peckham, Kent 9 April 1960 and Hamish Munro Dumbreck b. 3 Sept. 1964.
JOHN, third son of John the vintner, b. Edinburgh 25 Mar. 1768, took over his father's chaise hiring business and established himself as a reputable coach-builder in West Register Street, Edinburgh. He is referred to in the account of Shelley's visit to Edinburgh in 1813 as "the Edinburgh coach-maker who had repaired the private carriage". He married 1797 Mary Cossar and died in 1830 without issue.
THOMAS, fourth son of John the vintner, b. Edinburgh 17 Mar 1769, joined the Excise service in 1802. He was stationed in Aberdeen in 1805, Edinburgh in 1818 and was successively Collector at Argyle South, Perth and Glasgow, retiring to Edinburgh in 1843. By his wife Elizabeth Sutherland he had a son DAVID, b. Aberdeen 1805, MD Edinburgh 1830, who joined the Army Medical Service. He was in the Crimea, became Inspector General of the Medical Services 1864, honorary physician to the Queen 1865, K.C.B. (Knight Commander of the Bath) 1871. He died at Florence in 1876. By his wife Elizabeth Campbell Gibson of Leith, m. 1844, he had issue an only son SUTHERLAND. Thomas may have had another son - William born about 1808, more details are described on Thomas Dumbreck's page .
ROBERT, fifth son of John the vintner, b. Edinburgh 13 Nov. 1774, was admitted a burgess of the city in 1830 in right of his father John, innkeeper, as 'late grocer', No other record of him has been traced.
An un-placed member of the family (until 1999) was WILLIAM FRANCIS MAXWELL DUMBRECK, whose service record shows him b. Edinburgh 1790. He joined the Royal Navy 1802, serving in H.M.S. Defence at the Battle of Trafalgar (1805), and H.M.S. Victory at Corunna, invalided out in 1814. He joined the Excise service in 1824 and was posted to the care of 'Collector Dumbreck' at Perth and transferred to Glasgow in 1825 when qualified. He married his first wife Jane Inglis of Lasswade in 1816 and his second wife Margaret McNicol of Glenarchy in 1820 having a son by each wife. In 1825 he lived at the address in Candlemaker Row, Edinburgh of Robert the Hatter.
DUMBRECK ARMS
The earliest Scottish armorial MS., the Forman-Workman MS., of circa 1562, shows the arms of "Drumbrak of that Ilk" as an otter seizing a salmon, with two fleur-de-lys in chief, (see reproduction on home page), but at the date of this MS the line 'of that Ilk' had died out with THOMAS DUMBRECK of DUMBRECK, killed on the 10th September 1547at the Battle of Pinkie. The coat suggests a connection with Meldrum of that Ilk (whose lands adjoined Dumbreck), which has "a demi otter sable issuing from a fess wavy", with the fleur-de-lys as cadency marks for the Orton branch. There is another early reference to an otter coat in the armorial MS of Sir Patrick Home, where a 'wolf passant' is erroneously blazoned as an 'otter sable'.
The Seton armorial of 1591 and the Balfour MS of c. 1640 both give 'a wolf transfixed with a dagger hilted gules' and Nisbet's "System of Heraldry" of 1722 states "With us the surname of Dumbreck carries: Argent, a dagger thrust into the back of a Wolf passant sable (Workman MS.)".
Some later writers have a 'bear sable' and in 1830 Robson's "British Herald" gives "DUMBRECK (Edinburgh). Ar. a wolf passant sable transfixed with a sword ppr. within a bordure gules - Crest, a dexter hand holding a sword in pale and on the point thereof a boars head couped ppr. Motto "Nocentes prosequor".
DRUMBRECK (Drumbreck, Scotland). Ar a bear sa. with a skean piercing his back and coming out under his belly handle gu. blade az."
The 'bordure gules' in Robson's Edinburgh blazon indicates a third son and it undoubtedly refers to arms used by JOHN (1768-1830) the coach-maker in West Register Street, who would be quite familiar with the rules of heraldry as coaches bore the crest of the family to which they belonged.
There are like arms attributable to his brother WILLIAM (1763-1837) and his father JOHN (1736-1791) on a seal. It also appears on plate or seals of' THOMAS (1769-1856), JOHN (1799-1854) and JOHN (1823-1905) and has descended to the present generation.
The arms have never been entered in the 'Public Register of all Arms and Bearings in Scotland' as required by an Act of 1672. They are however granted in England by Somerset Herald to RICHARD in 1926.
There is no armorial evidence in the buildings of Dumbreck or Orton to confirm either coat. Hopes that confirmation might be obtained from seals on deeds signed by JOHN of Orton between 1611 and 1632 came to nothing as no seals are attached to the deeds.
NOTES
References in the text are to official Scottish records
RGS = Register of the Great Seal
RPC = Register of the Privy Council
KPS = Register of the King's Privy Seal
LHT = Accounts of the Lord High Treasurer
ER = Exchequer Rolls.
The present Mains of Dumbreck estate in Aberdeenshire consists of five farms - Mains, Newseat, Milltown, Alehouse and Mill. It lies between two streams, the Bronie Burn and the Yowlie Burn, and is in gentle rolling country, very bare except for the trees in the old burying ground and around the houses and farms. It is about 1 mile from Pitmedden, the nearest station being Logierieve and since 1731 belongs to Gordon College, Aberdeen.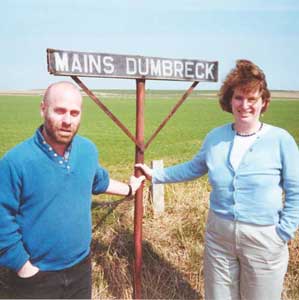 Roland Dunbrack and Sister Lynne Dunbrack on a visit 2001 from the USA
Orton, the home of the Moray branch, is in the Spey valley about 5 miles north of Rothes, on the road and railway from Keith to Elgin. The house stands between the road and the Haugh of Orton, the latter here being about one-third of a mile wide. The present building is basically a Scots tower of four or five stories, around which extensive additions were made in 1786 and 1848. The estate comprises the farms of' Garbity Mains, Home Farm, Mill and Bruntlands.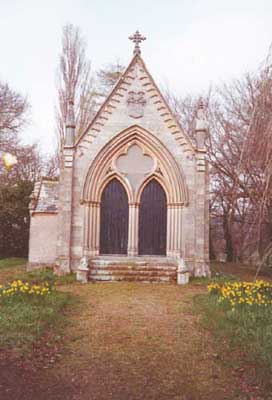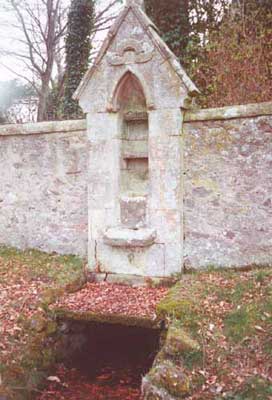 St. Mary's Chapel and the Holy Well at Orton
On the northern boundary of the estate, adjoining Inchberry, was formerly a chapel and Holy Well, objects of pilgrimage before the Reformation. A mausoleum designed as a small Gothic chapel was erected on the site in 1844 by Wharton-Duff, the then owner of the property. The family was buried in it until 1940. Norman foundation stones were found on the site.