William Dumbreck was born in 1763 and married 4 times, firstly to Margaret McIntyre (abt. 1788), (2) Isabella Lamont (abt, 1789), (3) Catherine Bowie in 1794 and then Sarah Keltie in 1811. He was a hotelkeeper and Burgess of Edinburgh and High Constable in 1810. John, William and Robert are the only issues that continue the family line to the next generation except Wm Dumbreck RN born 1790 who continues the family name through to the present day.

Archibald William Dumbreck - possibly emigrated to New Zealand - no further details at present.

Alexander Dumbreck born 16th June 1824 possibly emigrated to Australia - no further details at present.

William's children from Catherine Bowie, Catherine, Christain (aka Christina), John, William, Robert and Forbes; all married, and most are known to have had issue. See their page for more details.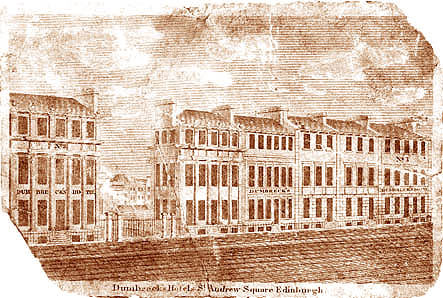 The Dumbreck's Hotel in St. Andrew Square, Edinburgh. c 1800

The building on the extreme right was originally Dun's Hotel, 59 St Andrew Square and was acquired by William's father John in 1790 and that same year William acquired number 35 St Andrew Square - the building on the left. The building to the right of the gap is 37 St Andrew Square.

When John died the next year William took over both houses, which soon became well known as 'Dumbreck's Hotel' and, spread into the intervening buildings. It was the leading hotel of the New Town and is often mentioned in literature of the period e.g. Stevenson's "St. Ives". William retired from active management in 1825, to attain the dignity of 'William Dumbreck Esq. of South Coates', a detached house then standing in the country at the east end of Haymarket, Edinburgh.

William sold the hotel buildings in 1825 to the newly formed National Bank of Scotland for £13,000 (and 3,000 guineas compensation to a tenant). William died in 1837 and a copy of his will was lodged at Edinburgh Sheriff Court on the 19th October 1843.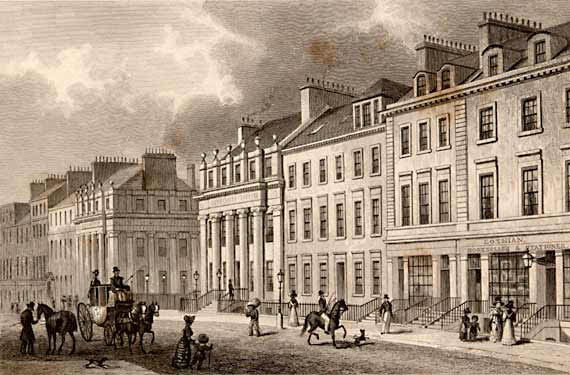 This engraving shows Number 35 St Andrew Square (behind the coach) and is an opposite
view from the earlier engraving above.
This image is dated around 1825 and shows the east side of the square, either just before William retired or after. On the right, the shop signage reads "Lothian Booksellers and Stationer" . Our thanks to Peter Stubbs for allowing this reproduction to be used.
The existing Royal Bank of Scotland building was designed by Arthur Davis of Mewes
and Davis, and Leslie Grahame-Thomson as the head office of the National
Bank of Scotland in 1936. After a merger in 1973, it became the head office
of the Royal Bank of Scotland.

The building, with nine floors including basement and sub-basement, has very
little ornamentation. The rusticated lower storey has circular-headed
windows. The recessed American-style entrance portico has Doric columns and
teak doors with carved panels.

The National Bank of Scotland had premises at No. 39 St Andrew Square,
formerly Dumbreck's Hotel, in 1825. It moved to No. 42 in 1835, and in 1936,
the original buildings were demolished to make way for a new spacious head
office built on the same site.

Date: C.1976
Materials: Darney sandstone (Northumberland)


References: Gifford, McWilliam, Walker, with Wilson (1984) The Buildings of
Scotland: Edinburgh, Penguin Books