James Dumbreck was born at Dundurcus on the 7th August 1767 and was a Tenementer in Rothes.
He married Margaret Davidson about 1795/6 and they raised at least 10 children, however an additional 2 sons were recorded without names.
Thomas Dumbreck born 8th May 1797 - no further info but likely died as an infant
James Dumbreck born 17th January 1799 - married Elizabeth Jenkins and raised 3 children
Peter Dumbreck born 15th March 1801 died October 1878
William Dumbreck born 18th December 1802 - no further info
Ann Dumbreck born 27th February 1805 married Alexander Brander and died 22 September 1839, Meft Urquhart
Peter Dumbreck born 9th May 1807 died 8 October 1878 gravestone # 294, Land Street, Rothes
Thomas Dumbreck born 2nd June 1809 - no further info
Son Dumbreck born 26th October 1811
Son Dumbreck born 17th May 1814
Margaret Dumbreck born 10th December 1816 married James Hay and raised 2 children. She died 17 September 1892 Sunnybrae, Aberlour, Banffshire aged 76
David Dumbreck born 21st November 1819 died May 1868 Rothes Gravestone # 294
Thomas Dumbreck born 6th October 1823 died 13 February 1887 Land Street, Rothes
On a visit to Rothes Cemetery James and Margaret's headstone was located and the 3 photos show the inscriptions.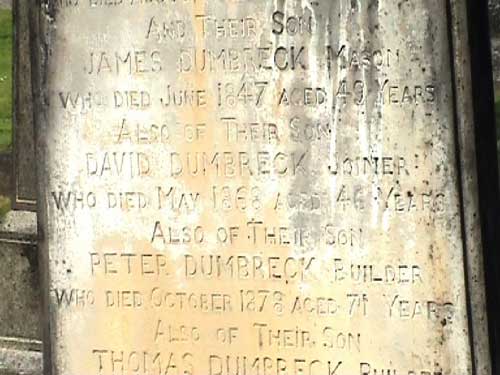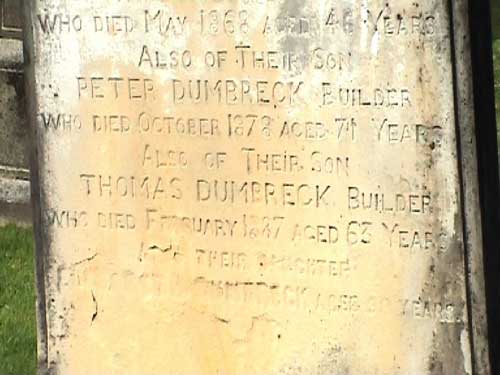 The last insciption is likely that of Margaret Dumbreck but it shows she died aged 98
This does not however fit with the info on Margaret as shown above