Our thanks to Roland Dunbrack for the following info:-
John Dunbrack was born (c.1756) in Scotland and arrived in Halifax as a young man with his parents, and a sister. John was a carpenter by trade and an early settler of Nova Scotia. "He is known as the first settler in Meagher's Grant, coming through by the way of Truro and down the Musquodoboit River in a canoe, first settling at Gibraltar and then Meagher' Grant.* He had the first frame house in Musquodoboit." **

He married Catherine MacDougall in Halifax on July 25, 1780. In Halifax they were allotted a piece of land on the waterfront. It is not clear if John, his parents, and siblings came from Scotland directly or via North Carolina. John was an acquaintance of Captain Martin Meagher, a resident of Pender County, North Carolina, who left just prior to the Revolution because of his Loyalist principles. In 1783 they were allotted adjoining water lots in Halifax near the Navy Dockyard on Halifax Harbor, where are now the Historic Properties. In 1786 John petitioned the Crown for and was granted five hundred acres of land abutting and to the south of the 5,000 acre tract of land granted to Captain Martin Meagher for his service to the Crown, later to be named "Meagher's Grant". On this petition he stated he had a wife, three children, and four servants. The land granted to him was called "Gibraltar" and was located just south of Meagher's Grant. In the following years John purchased considerable acreage in Meagher's Grant where he farmed and raised his family. He was said to have built the first frame house there. Several generations followed, including Norman Dunbrack, born in 1888.
John and Catherine had 9 children:-
1) Jane born about 1783 - no further details.
2) John born 1785 and died young.

3) Alexander born 1 September 1786 married Isabella Cruickshank and had 10 children.

4) James Dunbrack born 1787, married Elizabeth Nelson and had 3 children. (see photo)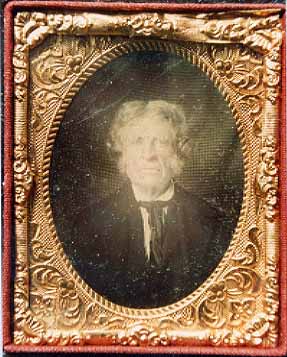 Photo of James Dunbrack c 1872
Children of James Dunbrack and Elizabeth Nelson
Mary Ann Dunbrack
Elizabeth Dunbrack
John Dunbrack b. 1822 continues the family line
5) Nancy born 1788 married George McLeod - no further details.
6) Janet born 1790 married a Mr. McIntosh - no further details.
7) Catherine born 1792 - no further details.

8) Charles born 1795 married Mary Ann Cruickshank and had 10 children.

9) John born 1797 married Jane Hannah Ogilvie and had 7 children.
Additional information on the children of the above can be studied from the ''Gedcom'' file available for download. Please note that all references to the name Dunbrack within this file has been changed to the original spelling ''Dumbreck'' Download Gedcom File

According to Church's map of Halifax County 1860, Peter Dunbrack b 1823 lived on the home place between the homes of D. Byers and S. Dickey on the old road, to Musquodoboit Harbour. Richard (Dick) Innes Dunbrack b 1861, Peter's son, was living in the old house when it was destroyed by fire. In 1980, this property was being used by Ivan and Ross Dickie as pasture land.*

Roland/Ranald McDonald came to Meagher's Grant in 1777, John Dunbrack came to Meagher's Grant before that date. This Ranald is believed to be the son of Allan and Flora MacDonald of Kingsbury, The Scottish Heroine. Catherine MacDougal's brother, Alexander, married Catherine MacDonald of Kennetcook, daughter of Capt. Ranald McDonald.

In Meagher's Grant, John and Catherine were neighbors of Miles MacInnes, the Cruickshanks, and the Dickeys. Catherine died May 1,1812, age 55. She is buried in St. James Cemetery, Meaghers Grant.

Two years later, John married as his second wife, the widow Sarah Bacon (1768-1834), sister of his first wife.

John Dunbrack died March 1, 1824 in Halifax at the age of 68 years. He was buried with his parents in St. Paul's Cemetery in Halifax, where the gravestone reads:-

To the memory of John Dunbrack, one of the first settlers of Musquodoboit who departed this life the first of March 1824 in the 69th. year of his age.

* From Musquodoboit Pioneers A Record of Seventy Families, Their Homesteads and Genealogies 1780-1980 by Jenny Reid.

** From Early Settlers of Meagher's Grant by A. B. Lay 1922.